cRisk Academy
Helping ambitious audit, risk and compliance professionals who love learning and value convenience. Accelerate your career, prove your competence, and earn more money with our professional certifications, certificates and learning opportunities.
Create Your Free Account!
Convenient, on-demand video courses that are as easy as watching a movie!
Digital certificates and badges for each course you complete, so you can take your career to the next level!
Find exactly what you need right here in All Courses where you can search, and filter by Topic, Category and Author.
Here's What Others Are Saying ...
"cRisk Academy is the most complete and best training option for internal auditors hands down." - John
"The video on-demand courses provide me with the opportunity to learn on my own time and in the comfort of my home. Also very easily accessible. The content of courses are relevant and contributes practically to my career and personal development." - Werner
"I like the convenience of taking the courses when I have the time available" - Keith
"Really like the video format and feels like I am part of a conversation then just learning information." - Mark
The Difference You Get With cRisk Academy ...
Sign up today for a FREE account, and take your career to the next level by joining the largest on-demand, career, certification, and community learning platform for internal auditors, risk management, and compliance professionals. Browse the on-demand training library (or search by topic or author) to find exactly the right course for you.
We believe you should have access to high quality learning opportunities, from world-class instructors, at a time convenient for you, regardless of where you are in the world.
We believe you should have access to learning opportunities when and where you want it, on any device, any time, any where, at an affordable investment.
We believe you should have access to learning that actually helps you do your job easier and supports your career growth. Modern learning for the modern professional.
We believe you should be treated liked family and not like a transaction.
We believe subject matter experts should be paid fairly for sharing their wisdom.
That's why we created cRisk Academy.
We offer high-quality learning opportunities, accessible to busy risk-based professionals just like you, at a convenient time and investment that is fair for the value you receive.
Many others offer "free" or "low cost" training or webinars, but you are the kind of person that knows you get what you pay for. You must watch the webinar or training at the appointed hour, which often is not convenient based on your work schedule or time zone, listen to an hour-long commercial, or get bad customer service.
You already enjoy and appreciate on-demand entertainment, so why would you settle for anything less than on-demand learning?
You have a busy schedule and need access any time, any where, on any device.
We take a different approach to learning and offer learning opportunities, where you get hundreds of dollars in value for a small investment. We realize you may be paying for your own training, without the support of your organization.
We also have a dedicated team of individuals that treats you like family, and cutting edge technology that works and makes your experience easy.
Participating in cRisk Academy learning opportunities means you:
High-quality instruction from top experts

Practical tools and resources worth many times your training investment

Content when its convenient for you (any time, any where, on any device)

Special offers and discounts available only to the cRisk Academy family

Have access to hundreds of video on-demand learning options

Watch the course as many times as you like with no expiration date, when you select lifetime access option

Block chain certificate and digital badge for each course completed

Internationally recognized Certificates and Professional Certifications you can earn in a dew days or 1-2 months
Welcome to the cRisk Academy family!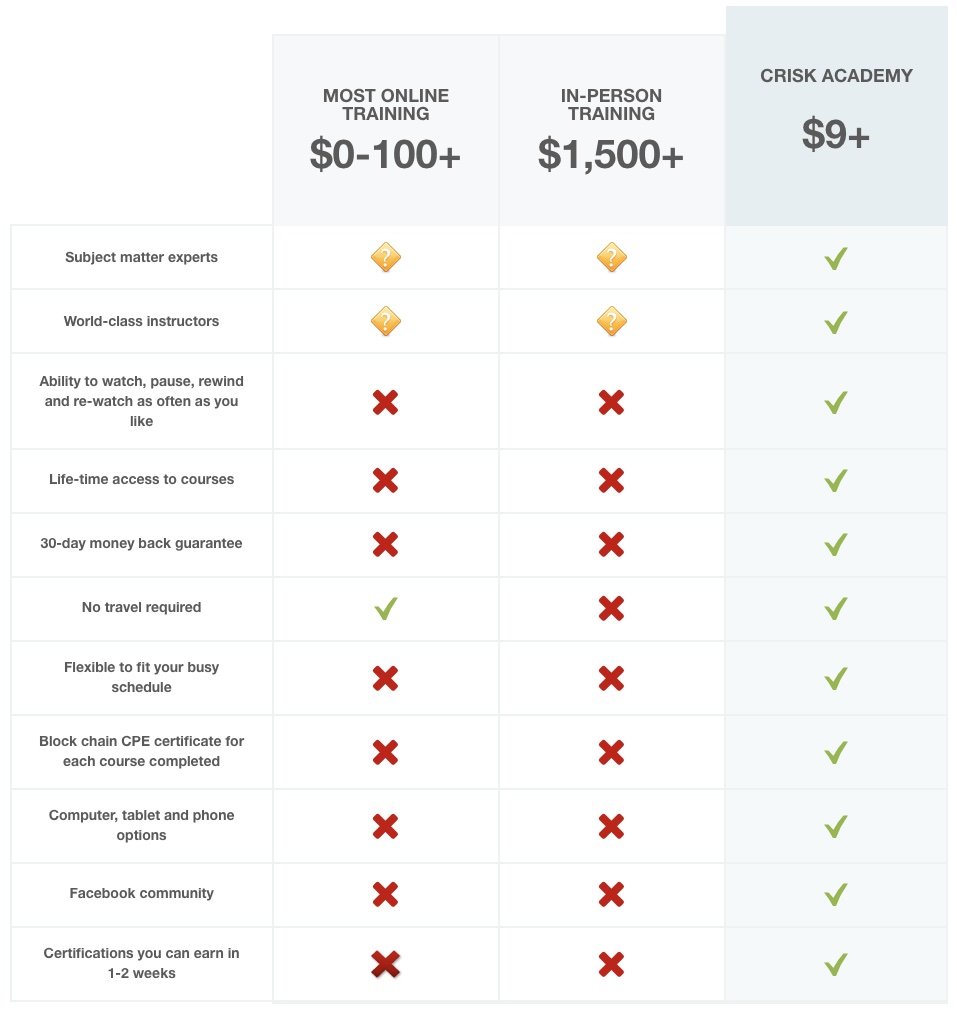 We are updating our video on-demand learning platform library every week, so check back often to see what's new.

If you have suggestions for new courses, please Contact Us with your suggestions.